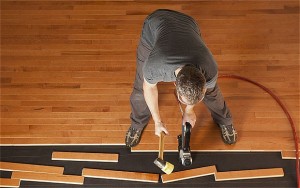 The kitchen area is possibly the most used and abused part of the home.  Most family spends more time in the kitchen than they do on the living area.  This is the area where food is both prepared and cooked.  Sometimes, this is even the area where the family eats their meal as the dining area is only used for more formal occasions.
If you are the type that spends a lot of time in the kitchen area, there are plenty of home improvements you may want to consider.  These home improvement ideas are not only clever, but that some of them are very easy and cheap to make.
Baseboard Shelf – if you are complaining about lack of storage space in your kitchen area, then you should consider having your kitchen cabinets replaced or redesigned so you are able to maximize the space available. One way of adding more storage space in your kitchen cabinets is utilizing the baseboard part and turning it into a pull-out shelf.  This enables you to make use of this seeming unused space so it can be used for something more useful.
Double Drawer Dishwasher – this can be quite useful if you have a large family in the home and use a lot of dinner and kitchenware. If your current dishwasher is almost ready to give up and that you are planning to buy a new one, consider this upgrade because it allows you to load at one drawer while the other drawer washes.
Trash Chute – instead of having a trash bin exposed and placed on some corner of the kitchen, why not have a trash chute where you can simply dump your trash. Since a trash can lays directly underneath the shoot, you are able to put your trash away without the trash can being displayed anywhere in the kitchen.
Magnetic Strips – these can be purchased in DIY shops and home depots. You can install them atop your countertop and use it to store your kitchen knives.  As long as your kitchen knives are made of iron, you can simply stick them into the magnetic strip to tuck them away.  This way, you get less clutter when you are preparing meals.
Mini Fridge – if you have a kitchen island in your kitchen area, have a mini-fridge incorporated in the design. You can use this mini-fridge to store your more personal stuff like wine, drinks, chocolates, and even medicines.